How to Make Scented Fabric Trivets. Make these for a great smelling gift that will keep on giving off scent every time a hot pot is set on it!
2 - 8" squares of fabric for each trivet
sewing machine
matching thread

For Filling:
rice
cinnamon
cloves
peppermint
spearmint
or any other dried herbs you like
1.Fold down 1/4 inch on one side of each fabric folding right side towards wrong side and iron flat creasing the fold.
2. Sew around 3 sides 1/4 inch leaving top (folded edges) unsewn.
1.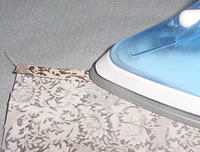 2.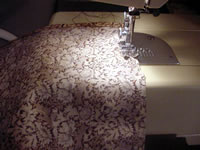 3. Iron all your stitches flat to set your stitches.
4.Snip the two corners being sure not to go too close to the stitched line.
5. Turn right sides out and press all edges flat.
3.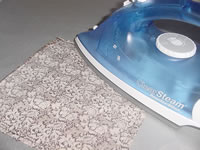 4.

5.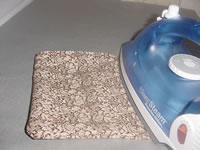 6. Fold in half and iron crease in center of block.
7. Stitch down the center to form two pockets Then Fold outside edge to center sewn line and iron crease in doing the same on the other side until you have two creases in your block.
6.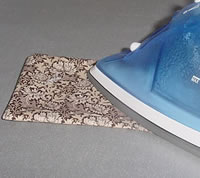 7.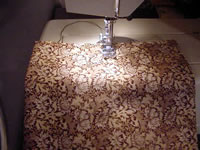 8. Sew down both creases and you now have 4 pockets - be sure to iron your block flat to set your stitches Now your ready for filling. Mix Rice, and scented herbs you want together and add about a 1/2 cup to the block by using a funnel and adding equal portions of the 1/2 cup to each pocket. This should fill your pockets about 1/2 full (you do not want to over fill or your hot pot you set on the trivet will be off balance and could tip.
9. Now stitch along top being sure folded edges are folded in and this will seal the trivet Turning the block to the bottom edge and moving filling towards opposite edge stitch along the edge so that the top and bottom of your trivet have the same stitching and no one will notice that the top edge was not slip stitched shut. It will look like it is part of the design.
8.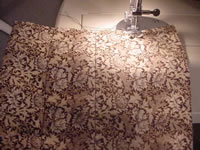 9.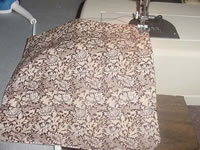 ---
Kimberly Lainson, editor of QuiltingWorks.com, shared this fabulous project with us. 

Bundle together 3 or 4 and tie with a pretty bow and you have a great smelling gift that will keep on giving off scent every time a hot pot is set on it!
Note: The photo numbers below correspond to the number of the step.