Cajun cooking expert Marcelle Bienvenu takes the mystery out of making a roux, and shares the secrets to making it perfect. You'll never be confused about how to make this thickener again!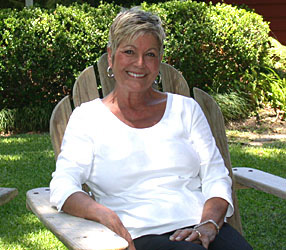 We recently traveled to Louisiana to explore the food of the Cajun country. Our tour guide was none other than one of the world's foremost authorities on the subject, Marcelle Bienvenu. Her illustrious gastronomical career includes stints at Commander's Palace, Brennan's and other top New Orleans restaurants; owning her own restaurant in Lafayette (Chez Marcelle); authoring books on her own and with culinary superstar Emeril Lagasse; and penning a popular column, Cooking Creole, for the New Orleans Times Picayune.
Since rouxs are such an important part of Cajun and Creole cuisine, Marcelle agreed to teach us (and our readers) her foolproof method for creating a perfect roux.
Now, we know that to non-Cajuns, rouxs can seem mysterious. Heck, some northerners don't even know how to pronounce the word ("roo"), let alone how to make it. But according to Bienvenu, too many people have made too big a deal out of what is really a simple process, thereby intimidating the uninitiated.
A roux is nothing more than flour and fat cooked together to form a flavorful thickening agent for cooking. Rouxs are used to thicken gumbos, stews, fricassees and other hearty Cajun dishes. Bienvenu tells us one of her first cooking lessons from her mom was "if you make a roux, you have a stew."
"Paul Prudhomme fries his roux," says Marcelle, "but this is tricky and if you get it wrong you have a burned mess. The trick to making a good roux is to do it slow and easy."
Marcelle prefers cast iron for making roux, but she admits you can also use stainless steel cookware. Nonstick cookware just doesn't work well for making rouxs.
Block out a little time to make your roux. Marcelle warns that once you begin the roux-making process you can't even think about leaving it on the stove. Marcelle playfully claims that family members could have died writhing and screaming on the kitchen floor and still, her mother wouldn't abandon stirring the cooking roux.
Bienvenu also recommends making extra. You can keep what you don't use in a tightly covered jar in the refrigerator for up to three months.
Microwave Roux
In addition to the method below, you can brown flour for roux in a microwave — start with equal parts oil (Marcelle uses regular vegetable oil) and flour. Cook the mixture, stopping to stir every five seconds or so, until browned to your liking.
Making Roux Step by Step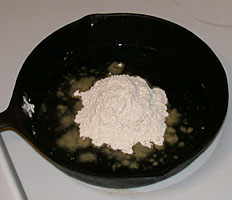 1. Using a heavy cast-iron skillet, heat equal parts oil and flour over medium heat (you can use the oil of your choice — Marcelle used vegetable oil. You can also use lard like they did in the old days.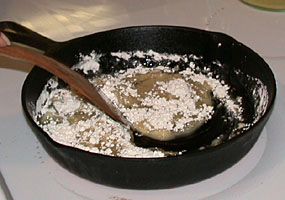 2. Use a wooden spoon to stir the mixture, incorporating the flour into the oil and stirring until the mixture becomes smooth.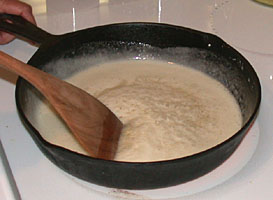 3. Once the oil begins to foam, it begins to brown. Watch it carefully and stir constantly. When making roux, don't leave it unattended. There's a fine line between a perfectly cooked roux and a burned mess, and constant stirring is the key.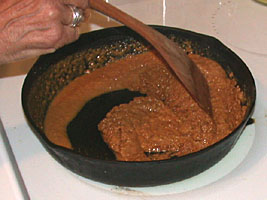 4. Rouxs can be used at various stages of cooking — from lightly golden to deep nutty brown. Your recipe will usually specify. The darker the roux, the more pronounced the nutty flavor it will have. The photo above shows this advanced stage of cooking the roux. Marcelle used it to make a batch of her Chicken and Andouille Gumbo.
More how-to articles
How to care for a cast-iron skillet
How to pan-toast rice
How to set up a breading station