How to prepare chicken wings for appetizers plus fabulous chicken wing recipes. Chicken wings are a great party food. You can make batches in advance, then keep warm to serve.
Chicken wings are a great party food. You can make batches and batches in advance, then keep them warm in a chafing dish, or re-heat in the oven. They are also inexpensive (downright cheap) and versatile in that there is an endless array of marinades, sauces and dips to keep the munching interesting. You can fry chicken wings, bake them, or my favorite, charcoal grill them.
But before you can get creative with chicken wing recipes, you need to prepare the wings. If you've ever ordered Buffalo Chicken Wings at a restaurant you know you are never served a whole wing. Here's the technique for preparing wings at home.
1. Take a sharp knife or meat cleaver and cup off the wing tip.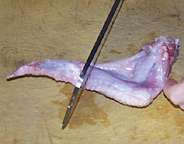 2. Cut wing at the elbow joint.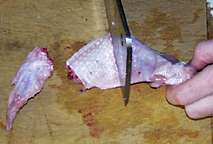 3. Discard wing tips or save to make chicken stock. The remaining two parts are ready for your favorite Chicken Wing recipe.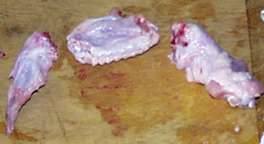 Chicken Wing Recipes
Be sure to check out the links in the Related Recipes section below for some fabulous chicken wing recipes that will help you put this technique to delicious use in your kitchen.